Last Updated on March 14, 2023 by Henry T. Hawkins
The Costco tire return policy lets you "try and drive" for 30 days. If you are unhappy with the tires, you can either return them and get a refund (minus the original installation costs) or exchange them for different ones. To find out more about the Costco tire return policy, keep reading!
If you're looking for a great place to buy tires, Costco is definitely a store you should consider. Not only do they have a wide selection of tires to choose from, but they also have a very generous return policy. In this blog post, we will discuss the details of the Costco tire return policy so that you can make an informed decision about whether or not it's the right option for you. Plus, we'll also provide some tips on how to avoid problems with your tires in the first place!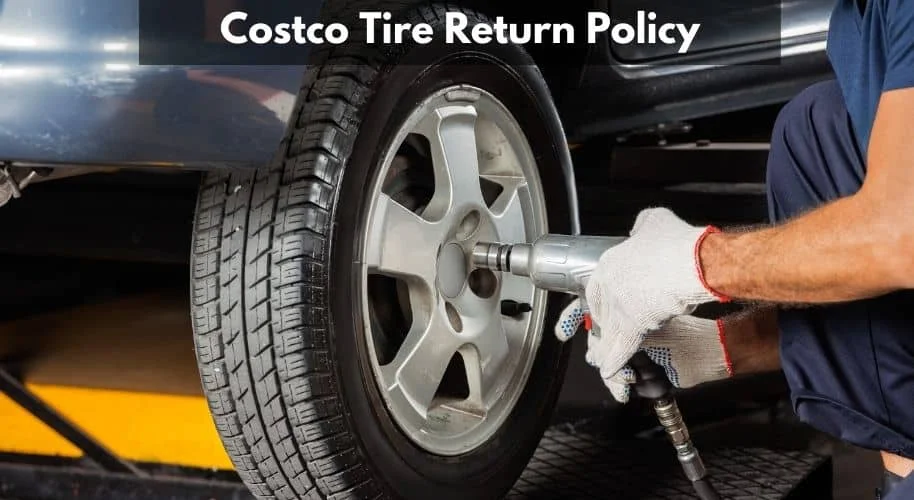 Costco Tire Return Policy
Costco has one of the best return policies out there. You can return your tires to Costco within 30 days of purchase for a full refund, no questions asked.
There are two return options you will get at Costco:
– If you're dissatisfied with your purchase and want an immediate refund, you have to come by the Costco Wholesale Tire Center when the tires arrive for a refund.
– You can contact them by visiting their website. They will submit a refund request for you. If you'd want the money credited back to your original payment method, you can email them and you'll get it back in three to four business days.
If you change your mind and want to exchange with a different set of tires, you can place another order on Costco.com.
Also read: How does costco tire warranty work
How to Return Tires at Costco?
To request a tire return at Costco, you need to go to the Tire Service Center. The hours of Costco Tire Service Centers vary somewhat by location, but they are generally open 10 a.m. to 8:30 p.m. Monday through Friday; 9:30 a.m. to 6 p.m. on Saturdays; and 10 a.m. to 6 pm on Sundays
The Tire Service Center will either complete the tires return process, accompany you to the returns desk, or take the tires and supply you with a return form, which you must submit at Costco's returns desk to finish the procedure.
If the tires you are returning are installed on your car, you'll need to either bring safe, good-condition tires to replace them with or exchange them rather than returning them. You should also bring your original receipt since an associate may be able to locate your purchase using your Costco membership.
Costco Tire Refunds
Costco will return your money to the original form of payment for accepted tire returns. There is no restocking fee involved. Costco will usually not provide a refund for the original installation expenses, but it may prorate the amount given depending on the remaining tread depth.
I recently had to get a refund for my Costco tires and the process was super easy. I visited the nearest Costco tire center. Then, I had to show the original receipt. And they told me to fill up a form to get the refund to the original payment method. That's it!
The whole process took about four business days and I got a full refund.
Also read: Is there an advantage to buying tires at costco
Costco Tire Return Policy Exceptions
Costco's tire return policy is only valid if certain criteria are met. You can't return tires if you've been in an accident or taken them off-roading or drag racing, for example, according to a store employee.
Costco may also supply a replacement rather than a refund if the wheels are faulty and covered by a warranty.
If you have any questions about the policy, it's best to ask at the time of purchase so there are no surprises later on. The store employee can help clarify any exceptions that may apply to your situation.
Wrapping up:
Thanks for reading this post. We hope you've found this article helpful and informative. To sum up, we just want to say that the Costco tire return policy is great and super easy to use. If you have any questions about it, just ask at the time of purchase.
Have you ever had to use the Costco tire return policy? How was your experience? Let us know in the comments below!
Sharing is caring!